Last summer, we cleaned out the loft of our barn and found many things, both animate and inanimate (some of the inanimate having been partially eaten by the animate). Our found treasures included a book called Cordelia and the Enchanted Forest, which I had written and illustrated as a project in high school.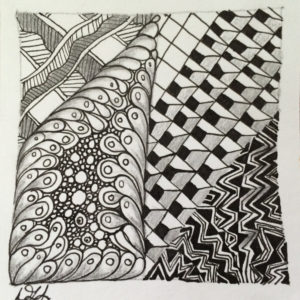 My girls, ages 9 and 5, found the book suitably enchanting, leading me to consider resurrecting it. Both the story and the illustrations need work but have potential. I typed the story into my laptop to begin the editing/re-writing process. And, I pondered: how can I enter back into the habit of drawing in preparation for re-illustrating the book?… Enter Zentangle!
A short while later, I received an email from a local couple seeking my website services. They told me about their businesses. Patricia is a Zentangle instructor. What is Zentangle, you ask? Well, it is great fun! Google it and you'll find lots of examples. As the name suggests, the practice of Zentangle acts as a form of meditation in which one gets lost in the "tangle" of an intricately patterned ink illustration.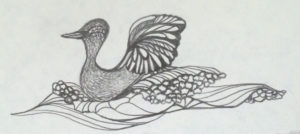 Tonight, I attended an introductory Zentangle class! You can see my first official Zentangle square above. But, really, I think I started zentangling before it ever became Zentangle®. I also found the sketch of a bird I completed as a teenager hidden in a sketchbook. Look Zen-like? I have always reveled in fine pen and ink and intricate organic pattern. So, Zentangle just fits.
Since writing a novel and publishing it in progress isn't quite challenging enough, I've added writing and illustrating a children's book for publication to the works. So, as my Life by Fire continues to burn, expect some enchanted tangles of zen on the side.