HAPPY NEW YEAR! I'm so excited to invite you to my next Creativity Course for Winter 2018! If you're interested in igniting your creativity, or know someone else who could use some creative inspiration, please join me or pass on this info—I still have spots available! I'm wishing you your BEST YEAR YET in 2018!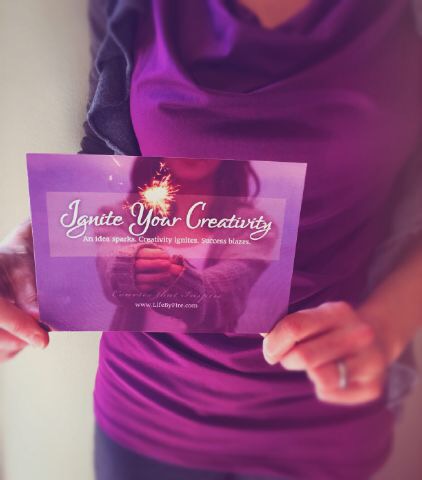 WHEN: 11 Wednesday evenings:
Jan 17 – Apr 4, 2018
6:00 – 8:00pm
WHERE: Auburn Vintage Clothiers
1857 Sawmill Road, Conestogo, Ontario N0B 1N0
WHY: We are all naturally creative beings. We create careers, products, solutions, and businesses. We create homes, families, foods, and traditions. We create successes, problems, connections, and divisions. Humankind has created masterpieces of art, architecture, technology, and philosophy. But, on a daily basis, how aware are you of your powers of creation? Has your creativity flourished or stagnated? Would you like to explore new possibilities, change perspectives, recharge your spiritual batteries, and awaken your creative genius?
My 11-week Ignite Your Creativity course will rekindle your imagination, spiritual connection, and creative vision, through fun, inspiring artistic activities, in a relaxed, encouraging setting. What a great way to start the New Year—please join me!
WHAT: Each week, we'll explore new ideas together and create a new artistic masterpiece as a metaphor for creating our best life:
Week 1: Mindfulness – Journaling with Monograms
Week 2: Focus – Colouring with Zen Patterns
Week 3: Image-Making – Acrostic Poetry
Week 4: Perspective – Drawing with a Grid
Week 5: Connecting – Meditation with Meditation Beads
Week 6: Visioning – Collage with Soul Cards
Week 7: Decision – Autobiography in Short
Week 8: Expectation – Goal Setting with Goal Cards
Week 9: Expression – Manifesto with Word Art
Week 10: Perseverance – 2-Minute Speech
Week 11: Release – Celebration
HOW: For more info and to register, visit: https://www.thrivival.ca/ignite-your-creativity/
Questions? Contact:
Deborah Jones
deb@blueorchard.ca
519-664-1411
Create your best life in 2018!
Deborah