My writing focus has flitted from scene to scene, era to era, based on my mood and interest at any given moment, as well as the accessibility of information required for historical accuracy. I'm currently focusing on a section that takes place in Kitchener in the spring of 1954. Here, I've outlined some of the legwork that has gone into defining it.
Suggested listening while reading this post: "I Need You Now" by Eddie Fisher:
Background
For reasons that will be revealed in due course, my beloved character, Gisa, leaves her home in Santa Catarina, Brazil, in early 1954. On February 1, 1954, she embarks on a steamship called The Uruguay; on February 15, 1954, she disembarks in New York. From there, she makes her way to her eldest sister's home on Ahrens Street, in Kitchener, Ontario.
A few months after her arrival, Gisa's sister and brother-in-law treat her to a night out with dinner and dancing. Where did this special evening take place and what would Gisa have worn? Good questions!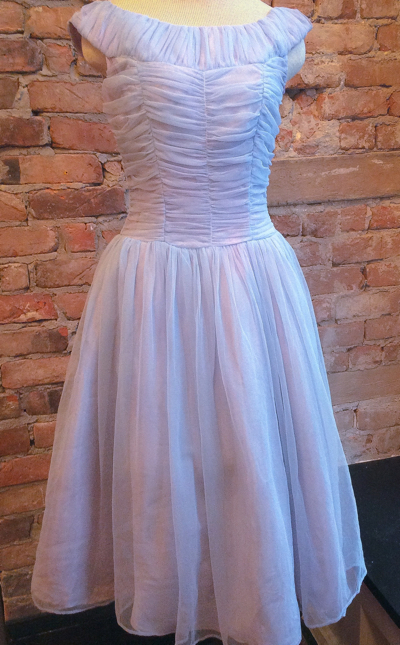 Gisa's Dress
For the special evening out, Gisa borrows a dress from her sister's friend. To create a clear vision of the dress, I ventured to Auburn Vintage Clothiers in Conestogo, Ontario, and consulted vintage clothing expert Rachel Belhing. I found the perfect dress in this Lavender 1950's Party Dress with Ruching. I did hesitate on the colour and Rachel suggested a "sea-foam green with deep turquoise underlining" for Gisa. Oooouuuuu, perfect!
Dance Hall Options
The Concordia Club at the Golden Lion Inn
Considering their German-Austrian roots, Gisa's sister and brother-in-law may well have taken Gisa to the Concordia Club that fated Saturday evening, particularly since Gisa did not speak any English upon arrival in Canada.
From it's beginnings in 1873, The Concordia Club congregated in a number of locations, leading up purchasing its permanent residence on 8-acres of land at 429 Ottawa Street South in Kitchener, where you can currently enjoy Germanic events, food, and camaraderie year-round.
At the outbreak of WWII, the Concordia Club terminated all activities. When the war ended, they quickly rebuilt their organization.
From the Souvenir book: Concordia Club 100 Years Centennial Issue No. 57, August, 1973, pages 91-92:
"From 1949 on, Concodia held its Saturday night dances at different locations. Not until 1951 was the club in the position to find a permanent location. "The Golden Lion", opposite the K-W Hospital, the site of the present day CKCO Television station….
…In the early 1950's, Concordia Club experienced unprecedented growing pains resulting fro the arrival of many new German-Canadians in Kitchener. Successive presidents…and their executive boards were overworked in their attempts to accommodate the wishes of the newly formed sub-groups such as the Tennis Club, Chess Club, Soccer Club, Choir and other groups. Concordia Club had become the focal point for the new German-Canadians who flocked there for sports, cultural and social activities….
Former President E. Bretschneider fondly reminisces about the 1952-53 period. "Besides the weekly dances we had other diversions. The club premises consisting of a large hall, a small office, and a small kitchen, were open daily to its members. Nick Schroeder had formed a chess group, which outnumbered the choir. A table tennis team under my direction consisted of 18 players and H. Kraushaar had become the manager of a successful soccer team. The usually boring Sundays were thus turned into a festive occasion for young and old alike. The membership fee of 50 cents could be afforded by all… The biggest drawback in the whole question of immigrating to Canada presented itself undoubtedly in the scarcity of eligible young ladies, who enjoyed a ratio of 8 to 1 and thus could be quite selective of the company of young men of their age. Young and old bachelors alike formed into a stag line waiting for a few turns on the dance floor. In sheer desperation, we frequently drowned our sorrows in soothing barley water."
The Walper Terrace Hotel
Established in 1893, complete with an interior courtyard, on the corner of King and Queen Streets in in the centre of downtown Kitchener's historic district, this Victorian hotel has hosted many famous guests, including former politician and First Lady Eleanor Roosevelt, Lennox Lewis and Al Capone. Unfortunately, I don't think Gisa's sister and brother-in-law could have afforded to spend the evening there.

The Victoria Park Pavilion
The Victoria Park Pavilion would have offered another venue for dinner and dancing in 1954.
From Wikipedia:
"Victoria Park is the oldest park in Kitchener, Ontario, Canada.… First opened in 1896, the park was built mostly on swampy farm land. A man-made lake fed by Schneider Creek surrounds three small islands, and is crossed by multiple bridges, one dating to the creation of the park. The park also contains the Victoria Park pavilion, the Victoria Park Gallery and Archives, a bandstand, and a historic boathouse, now a pub and music venue."
From The Record Living Story Articles:
"[The Original Victoria Park Pavilion] was an attraction in Berlin, Ont., from 1902 until 1916….
…Special excursion trains on the electric railway connecting Waterloo, Berlin, Preston, Galt, Brantford and Port Dover often brought 1,000 or more people to a platform stop at the edge of Victoria Park.
In order to foil nature, the park board engaged Berlin architect Charles Knechtel to design a structure that would function as a picnic shelter and serve as a meeting hall, restaurant and dance hall….
…Like many things in Berlin, the pavilion came to an end during the troubled First World War era. On March 24, 1916, flames engulfed part of the building but Berlin's fire department was able to save a substantial portion of the all-wood structure….
…The site stood empty for eight years until the second pavilion (now more than 90 years old) was erected to a design that honoured the original Knechtel drawings. A historical plaque is mounted on the west end of that "new" 1924 pavilion."
As noted in a Victoria Park Historical Walking Tour brochure, "The gray quarry stone, enameled and terrazzo floors, and pressed metal ceilings [of the rebuilt pavilion] were meant to last."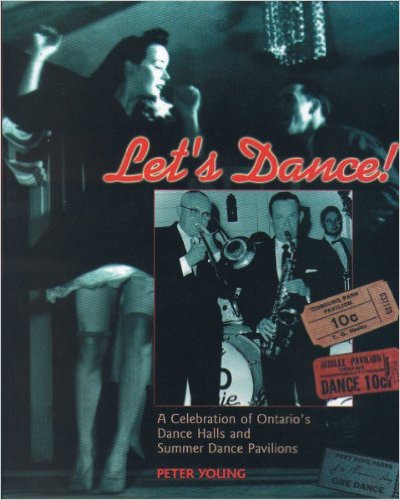 My quest to learn more about the Victoria Park Pavilion led me to request this book from my local library, which I eagerly await: Let's Dance: A Celebration of Ontario's Dance Halls and Summer Dance Pavilions by Peter Young.
Restaurant Options
Before the dance, the group eats out at a restaurant. Which restaurant?
Two Goblets
Since I have lived in the Kitchener-Waterloo area, the Two Goblets restaurant has been located at the corner of Weber & College Streets in Kitchener. Since Gisa resides at the corner of Ahrens and College Streets at the time, the Two Goblets would provide a great choice for this scene. Alas, my research revealed that the Two Goblets restaurant has "only" been serving their delicious Middle European food for 28 years.
Golden Lion Inn
The Concordia Club hall was located in the basement of the Golden Lion Inn so they may have eaten upstairs beforehand.
Victoria Park Pavilion Restaurant
More research will reveal if there was a restaurant at the pavilion in 1954!