(Or "The Distractions & The Research")
Someone once said, "the devil is in the detail". Ever wondered who? I did. Apparently, it derives from "God is in the detail", expressing the idea that whatever one does should be done thoroughly. For me, it refers to the time I'm having gathering all the historical details I desire to proceed confidently with the next sections of my book.
A. The Devil: Distractions Not Avoided
I recently read (and reread) an alternative translation for this line, "Lead us not into temptation, but deliver us from evil." from the Lord's Prayer. It states that the original Aramaic, in which Jesus would have spoken it, would translate more accurately to something like "Lead us not onto the path of distraction but deliver us from useless diversions."
For me, distractions filled the last month, including March Break fun and stomach flu suffering. I have proclaimed April the Month of Focus!
B. The Details: Research Required
Have I made any progress on my book in the last month, you ask? Yes, despite the distractions, I have! Life By Fire will soon branch out into a couple of directions that require accurate historical details. To that end, I have been diligently Googling, emailing, calling and haunting various libraries and universities. Here are some highlights: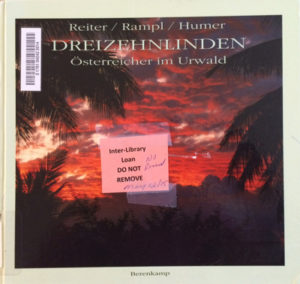 Life in Dreizehnlinden (aka Papuan or Treze Tílias): 1942 – 1954
I discovered a book called Dreizehnlinden: Osterreicher im Urwald on the Internet, which documents the history of the first location of my novel. I have managed to borrow a copy of the book from the University of Toronto library and have use of it until May 12th. Unfortunately, I do not speak or read German…the book is in German. So, how to most efficiently translate it?
Plan A: I have discovered one of the authors of the book on Facebook (Yup, Facebook comes through again, much to my amazement!). I am in the process of contacting him to inquire after an English translation or an electronic copy of the book, which I can paste into Google Translate to achieve a rough translation.
Plan B: Scan the entire 203 pages into a text scanner to convert the text into electronic form myself. The Kitchener Library comes through again with a text scanner in their Accessibility Centre. The question is, can I get a useable rough translation if the text scanning software cannot recognize German characters?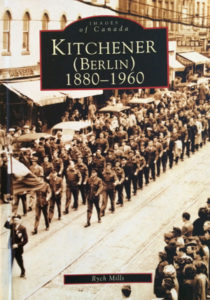 Life in Kitchener: 1942 – 1945
Gisa's eldest sister did not immigrate to Brazil with the rest of her family; instead, she immigrated to Kitchener, Ontario, Canada with her husband, joining his relatives there. What was life like for a German-speaking woman living in Kitchener during World War II? I've spent some enjoyable hours in the Kitchener Public Library's Grace Schmidt Room of Local History. The Local History Librarian, Ms. Karen Ball-Pyatt, has been very helpful, guiding me to the information I desire. In addition to the books I've shown here, my reading has included a 1973 Thesis written by a History student at the University of Waterloo, photo documentation, and various newspaper clippings.
Voyage between Santa Catarina, Brazil, and Kitchener, Ontario, Canada: February 1954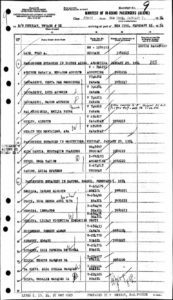 In February 1954, one of my characters will travel between Papuan, Santa Catarina, Brazil, and Kitchener, Ontario, Canada. How will/did she travel? What route will/did she take? My investigation led me to email Pier 21 in Halifax. This Canadian port has historically received the majority of immigrants to and from this country. However, Mr. Colin, the very kind and helpful Curator of the Canadian Museum of Immigration at Pier 21, informed me that someone traveling from South America by sea in 1954 would likely have ported at New York and then traveled by train to Kitchener via Toronto.
At his direction, I ventured onto the New York Times online shipping pages, then ended up searching on and opening an Ancestory.com account. Through it, I gained access to passenger lists for various ships with passengers who embarked in Brazil and disembarked in the port of New York in February 1954. I now know that my character will travel/ed from Brazil to New York on a steamship named The Uruguay, a boat with a colourful history, which I will outline in a separate post.
Ship name: The Uruguay
Embarked: February 1, 1954, Santos, Brazil
Disembarked: February 15, 1954, New York, N.Y.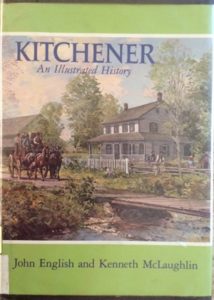 Life in Kitchener: 1954 – 1964
What was life in Kitchener, 1954, like? Where would a German-speaking person go to dinner or to dance? Where would she buy groceries or post a letter? The desire to accurately relate these details has led me into further inquires, including correspondence with the German Department at the University of Waterloo about their Oral History Project and browsing the history of the Concordia Club.
My search to understand the lay of the land in downtown Kitchener during this time period has led me to correspond with the City of Kitchener Archives and the University of Waterloo's Geospatial Centre.
So much to learn! See how it all plays out in my upcoming chapters…they're coming soon, I promise!