Based on the Better Birthday Cake recipe, this "Primal" Carrot Cake uses coconut flour, dates and exotic spices. It is gluten and grain-free.
The recipe requires quite a few steps but the end result is moist, flavourful and delicious! You need to prepare the carrots an hour in advance and marinate them in maple syrup so give yourself enough time.
Carrot mixture
2 ½ cups (about 5 whole) Carrots raw, peeled and shredded
1 cup Maple Syrup
Wet
10 Medjool Dates
1 cup Butter (room temperature)
10 Eggs (organic, from pastured chickens)
1 Tbsp Pure Vanilla Extract
Dry
3/4 cup Coconut Flour
1 Tbsp Cinnamon (dry ground)
1 tsp Ginger (dry ground)
1 tsp Nutmeg (dry ground)
¾ tsp Cloves (dry ground)
1 tsp Baking Soda (aluminum-free)
1 tsp Sea Salt
Glaze
Liquid from Carrots
¼ cup Butter
Icing
1 cup Cream Cheese (room temperature)
1 cup Butter (room temperature)
½ cup Honey (or to taste)
2 tsp Cinnamon (dry ground)
Garnish (Optional)
1 cup Walnuts, coarsely chopped
Prepare the Carrots: 1 hour in advance
Remove your eggs, butter and cream cheese from the fridge so they warm to room temperature.
In a food processor, using the grating blade, shred carrots.
Place carrots in a large covered bowl.
Pour maple syrup over carrots.
Marinate in the fridge for an hour.
After about an hour, remove from fridge and strain carrots from the liquid. Put the liquid aside—you'll use it later to make the glaze.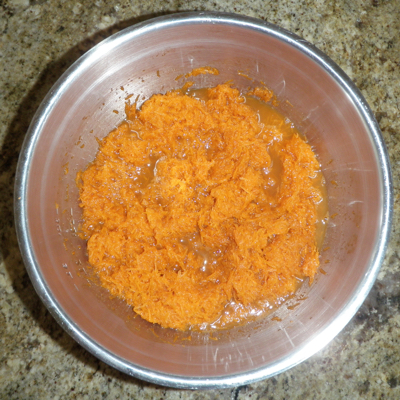 Heat Oven
Preheat oven to 325°F.
Mix Dry Ingredients: Measuring cup
In a measuring cup or small mixing bowl, add and mix the dry ingredients.
Blend the Wet Ingredients: Blender
I have a big, 9 cup Ninja blender so I can blend the entire recipe in it. If you have a small blender, you may choose to use a hand mixer and mixing bowl to blend the wet with dry ingredients and then stir in the carrot.
In the blender, blend the 10 medjool dates until almost smooth.
Add the 1 cup butter and blend more.
Add the 10 eggs and 1 Tbsp vanilla and blend a little more.
Add the Dry Ingredients: To the blender
Add the dry ingredients to the blender and blend again until smooth (assuming your blender is big enough, otherwise, transfer everything to a mixing bowl).
Add Carrots: Stir into the mixture
Stir grated carrots into cake batter. But, do not blend, just stir! (I remove the blade from my Ninja blender and add the carrots to it and stir gently.)
Prepare Pans
Grease two 9-inch cake pans with butter. (Or, for easy removal, line pans with parchment paper.)
Pour batter into pans.
Bake
Bake at 325°F for 35 minutes.
Test centre with a toothpick—if the toothpick comes out clean, then the cakes are done.
Remove cakes from oven and cool.
In a saucepan, reduce the liquid from the carrots.
Add the butter and stir.
Reduce until you have hot caramel-like sauce.
Pour over the cooled cakes, still in the pans.
Put the pans somewhere cold like the fridge to cool the cakes completely and harden the glaze.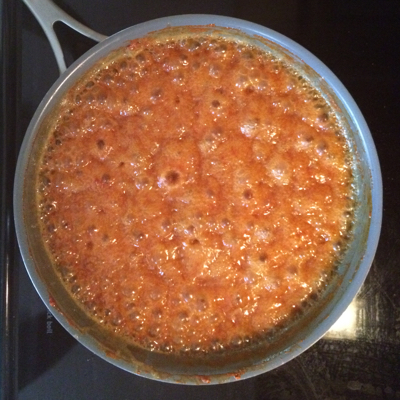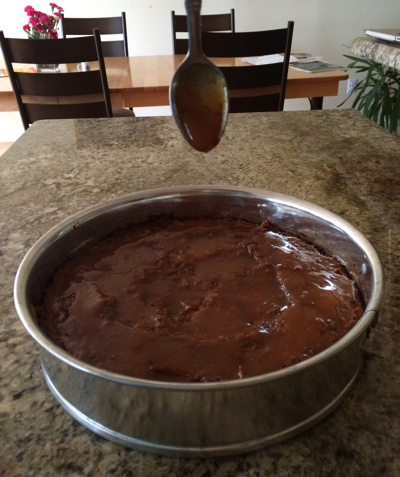 Prepare the Icing:
In a mixing bowl, blend the 1 cup butter, 1 cup cream cheese, ½ raw honey (or use less and add to taste) and cinnamon until smooth.
For more detailed instructions, see the Better Icing post.
Ice, Garnish and Serve:
Ice cake with cream cheese icing, garnish with walnuts, chill and serve.
Freeze the Leftovers:
This cake freezes very well. Assuming you have any left to freeze; it's also healthy enough to eat for breakfast….